Hannah & Rob had the most chill wedding day at Nantucket in Longview, TX.  So much of the day was put together by these two and their insane group of friends.  It truly felt like a wedding day straight out of a movie.
I walked in to Hannah giggling as one of her bridesmaids did her makeup.  Hannah's brother is in the United States Army and could not make it.  His wife was kept company all day with a life-sized cut out.  Because of course they had a life-size cut out.
"If you walk around to the back of a house and hide behind the bushes while a girl is getting ready for the day, eventually, she will see you, laugh, and you will capture a magical photograph." – AlexM
Hannah used her grandmother's old jewelry box to hold the rings.
(More like her grandmother's vintage, magical mystery-case of wonder, beauty, and joy.)
Baller Mother of the Bride.
Hannah gave Rob a sweet note and a flask.
Hannah's mom was just a delight.  She was so present throughout the day.  I loved capturing her reactions.
Of course I'll take the timeless photo of you putting on your earrings.
Just be aware that the timeless moment of you putting on deodorant will also be documented.

First Look goodness.
I looked down for a minute as I was swapping lenses and then Rob is suddenly checking twitter or something.  "What a douchebag," I think to myself…. Oh wait… never mind, he's totally reading Hannah a super sweet note he wrote for her about their day. (That was a close one.)
Remember that flask… Hannah is one of those brides who thinks of everything.
Including: "I might want a drink mid-way through my wedding day."
These two were way too comfortable on this swing.  I made her stop before she fell off.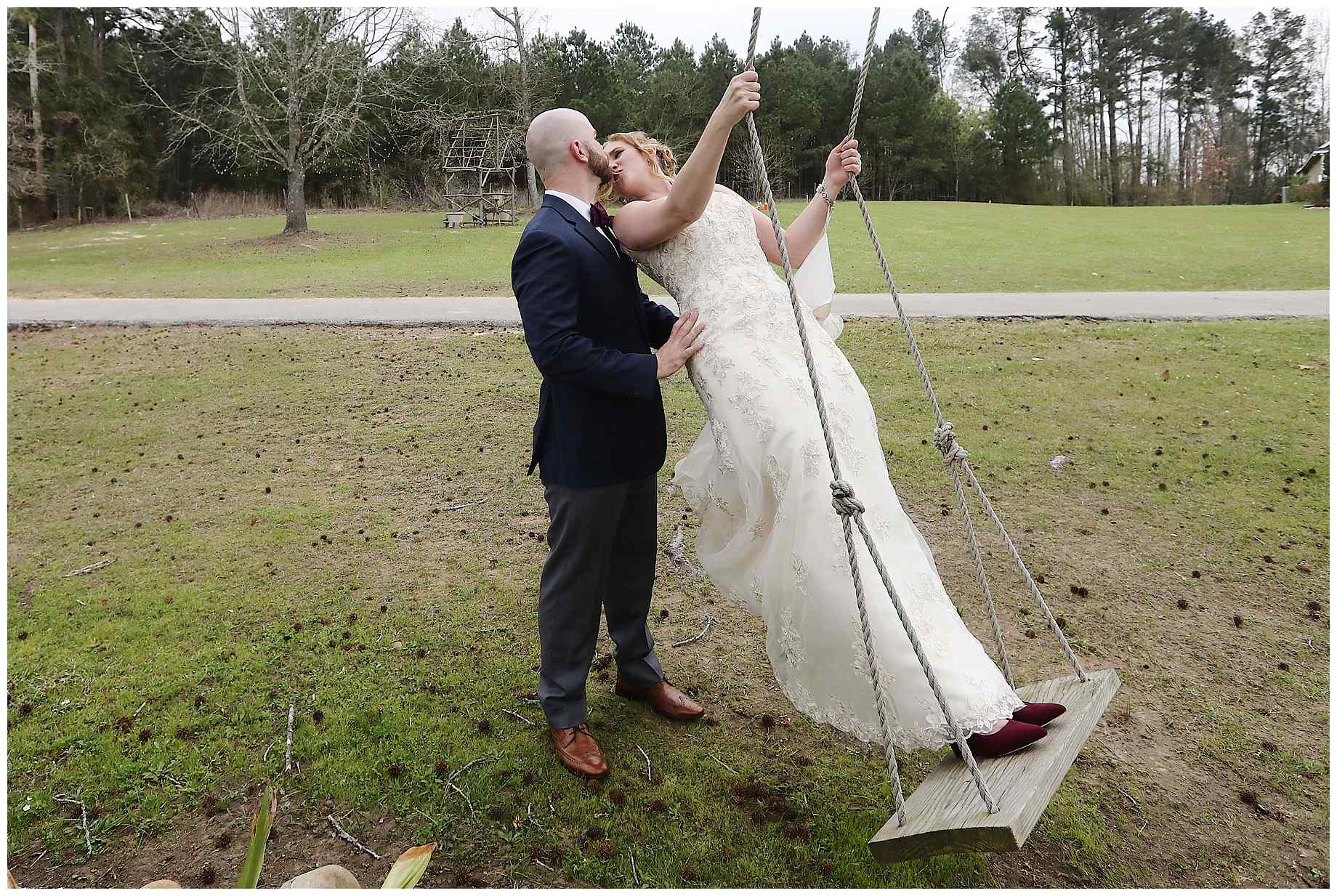 Hannah spent most of her wedding day smiling and giggling.  Being kissed by her husband also helped.
Her bridesmaids put this together.  True story.
When you look down during the bridesmaids portraits and see this…. You know the reception is going to be legit.
Family portrait time!
Right before the ceremony I look up to see Hannah's grandfather doing this.  Eventually someone brought an umbrella out, but boy do I love this moment.
Of course the official opened with 2 minutes of Princess Bride styled, "Mawage. Mawage is wot bwings us togeder tooday."
Why just walk into the reception when you can dance your way in?
This moment was everything.  It was when Hannah and her grandfather teared up about her grandmother not being there.  Hannah told him that she had attached a necklace of her's to the bouquet that she carried all day. Which was sitting on the table in front of them.
All the feels.
I adore toasts.  I love when people say the things we often feel, but rarely tell each other.  This one was a doozy.  If you are wondering why it goes from evening to night time in these photos it's because they had that much great stuff to say about them.
And then her brother called in from his super top secret location and talked about how much he loved Hannah and what an honorable man Rob was and how he could not be happier for the two of them.
Game over.
"Can we just cut the cake?  We don't want to do that thing where we feed each other?" she said.
Of course you can!  It's your wedding, do whatever you want to do.
Every sparkler exit should feel like the Battle of Helm's Deep.
My favorite 10 Mug Machine images from the night.
Old man using them as as x-ray goggles. :)
This is what happens when your brother-in-law films your wedding.
Of COURSE Rob tore a hole in the crack of his pants.
Spit take.
Thank you for your service.
You guys had the perfect day.  Thank you for sharing it with me and trusting it to me.