It may be possible to have a better wedding day than Chloe & Tyler had.  I've just never seen it done before.
Let's start off with giving shout outs…
First off, Lake Tyler Petroleum Club.  Always on their game. HUGE shout out to A Touch of Nature, I always love working with them.
Designs by D'Anne.  Keeping me 15lbs overweight for the past 15 years.
Because she is awesome, Chloe had a shrine set up for a bridesmaid who was not able to fly in.
MOTG & MOTB were both rockin' their robes.
Chloe hated this spray thing.  Therefore I must blog it.
Tyler arriving in his getaway car.  (That his Grandmother let him borrow.)
This group is made up of brothers, brother-in-laws, and seminary friends.  So naturally they took the whole photo process very seriously.
First Look magic.
Good grooms always ask to see the back of the dress.
Chloe gave Tyler two sweet gifts. A watch that he had been wanting. (I think, I was kinda far away but was for sure eavesdropping.) And a journal she had been keeping for the past few years.  I loved seeing the delight on Tyler's face as she shared little passages and excerpts from it.
Disclaimer: This is totally a photo I shot from the hip as I was carrying gear to get ready for their family photos.
My only goal in life from this point forward as a parent is to have Sara's brothers love her enough to hold her hand on her wedding day.
Family is super, super important to both of them.  Chloe had her grandmothers each put on special pieces of jewelry.

Seriously, I can not say enough wonderful things about these families.
Tyler has a younger brother and sister. Chloe has a younger brother.  Whenever those people get married, I demand to be there. OK, glad we got that worked out.
So the other two times we did sessions, Chloe brought her own snacks.  She loves candy and seriously has a thing for gummy bears.  However, through all the chaos, she did not pack any for her wedding day. And was super sad when I asked her where the snacks were on her wedding day.
This was the look on her face when I surprised her with a little plate of gummy bears that I had brought for them.
Good news: if the wedding photography business ever goes away, I think I can make it selling stock photos of gummy bears and wedding rings.
Maybe it's because we have 3 of our own, but I'm a sucker for momma's and their boys on a wedding day.
Let's take a little break right here.  This moment.  The moment when the bride comes down the aisle.  From a wedding planning perspective, this magical dream like instance has 1 million decisions that led up to it. Too many times event planners and coordinators are viewed as the people who help you pick out linens.  While that is true, every now and then you are lucky enough to find a planner who helps you think through every detail of your day.  Things don't magically "fall into place" on your day.  Someone puts them in their place.
Taryn and her staff at Event & Company do the heavy lifting, and the easy lifting, and the lifting you didn't even know needed to be done.  Book them.  Seriously, every dollar you give them is 100 less decisions you have to think through and make.  Money well spent.
Midway through her vows, Chloe decided she wanted a sip of water.  Because it's her day and she can do whatever she wants.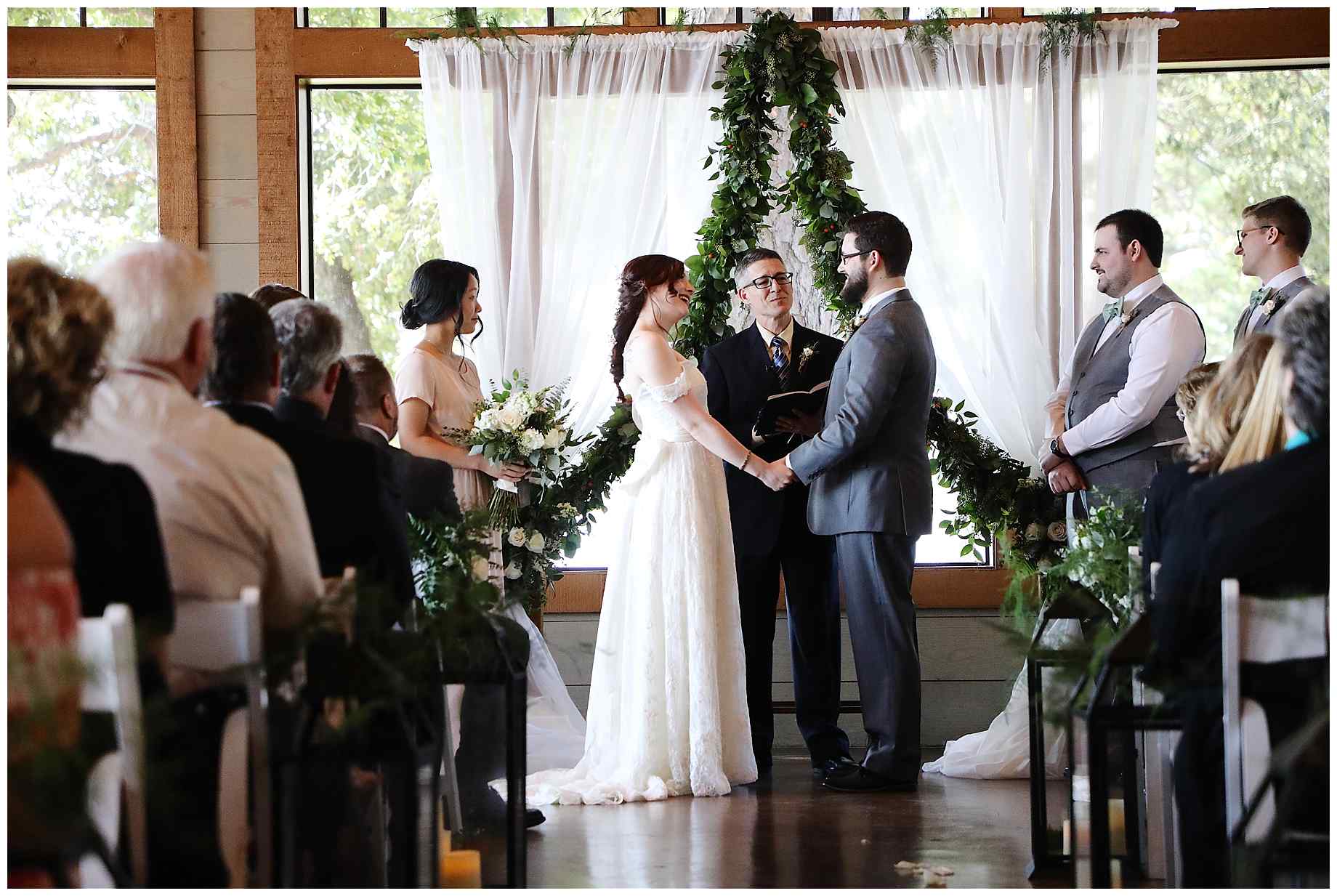 Every time I photograph these two, they are snacking on something.
They both were hoping to have an outdoor wedding, but the heat was a bit more than they had planned for. (Of course it was stupid hot in October. Sigh.)  Anyway, Tyler surprised her with an impromptu outdoor dance and gift right after the ceremony.
Again, I didn't catch all the details, but I think this was the first engagement ring he gave her that broke.  He had it made into a necklace.  "I was hoping that's what was in the box," she squealed as she opened it.

Chloe's brother sang while she danced with her father. Because I told you, the whole family is awesome.
I do love a bride who watches her husband dance with his mother.
As I listened to their friends go on and on about how incredible they are, one thread ran through all the speeches: their generosity.
Generosity of time and actions.
Generosity of advice.
Generosity of gifts.
And above all, generosity of love.  Their ability to give you exactly what you need.  Whether it's a compliment, or wisdom in a tough situation.  Maybe the perfect gift, or the right conversation.  They are constantly looking for ways to serve and give of themselves.
The anniversary dance was won by Mr. & Mrs. Clause.
Again, the theme of "family" was how we ended the day.  They wanted to make sure they saw everyone and hugged them before the getaway.  Just next level intentionality on their part.  I loved it.
The best part was that the family hugging led to Chloe tearing up as they walked through the bubbles.  Suddenly, "I'm not crying you're crying" became the theme of the exit.
One these stories is a lie:
Chloe was still tearing up as she got to the car.
Tyler was like, "Dude, you have been totally awesome.  Please, come with us on our honeymoon, we would love to hang out with you even more."

Yes, the Mug Machine was there.  Yes, I brought 3 giant sized bags of gummy bears to rain down from the heavens.
I love that Chloe was able to surprise Tyler with a journal.
A gift that said, this is my journey, and I'm forever glad you are now a part of it.
I doubly love that Tyler was able to surprise Chloe with a dance.
The gift of an unexpected moment in a day, that had been planned for over a year.
And their generosity towards me over these past months was what led me to make sure I had 4lbs of gummy bears for their day.
So that she could snack on them.
So that friends could throw them.
And so that I could stick a bag in their getaway car for them to find as they drove down the road.
Right after we did those photos in the Mug Machine Chloe said, "This is the happiest moment of my life."
The generosity and love you guys pour out on others is what made that moment possible.
Thank you.