So for those of you who follow me on Facebook or Twitter, you know that a couple of weeks ago we re-enacted our wedding. Jo was way too cool to be "in" the wedding so he opted to be the photographer and Sara was able to fulfill her dreams of being a flower girl.
2 side notes:
1. The kids have always liked taking pictures with our iPhones and my camera, but we finally broke down and bought them a camera of their own and they have gone nuts with it. I have not really told them what to do other than how to turn it on and off and the results have been pretty fun to watch. I'll do a post soon of the random stuff they shoot.
2. Give it up for my wife. 7 year and 4 kids later she still fit into that dress. I on the other hand walked around with my pants half way zipped and only inhaling.
The garden hose made a lovely wedding walk and Sara had the time of her life.


Luke did great as the Father of the Bride. No tears, just a man knowing his daughter will be in good hands.


Eli was the PERFECT minister. He kept it short and to the point.


Jo got up close for the ring exchange.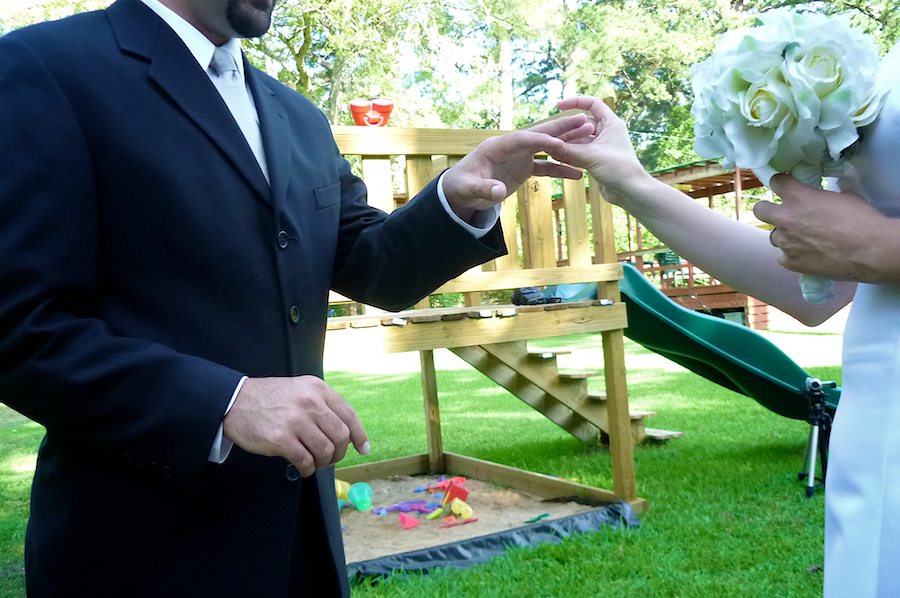 We did have to hold the kiss. I think he missed the first one.



No one told him to shoot the grooms cakes, he just figured it was worth documenting.


This is the only photo I and my timer can take credit for. Not a bad looking group.


Anyway, all you brides who are thinking of adding a second shooter to your package, don't be surprise if Jo shows up. :)