When you get married on the 4th of July and have a family full of service men, you know it's going to be a great day.  I was giddy that this next image was one of the first I fired off that day.
Sarah & Caleb said their vows at the fantastic Lake Tyler Petroleum Club. (A fantastic venue with lots of options for your wedding day.)
Family, history, legacy.  These are all things that Sarah values.  (It's part of what attracted her to Caleb.)  Much of her jewelry belonged to her grandparents and her friend even MADE her this frame.  How incredible is that?
Basically every wedding has the same story.  Boy & girl like each other.  Boy & girl get married.  It's the easiest story to tell, see, and document.
The thing is, sometimes that's not the most interesting story of the day.
I love getting to know my couples in a way that helps me figure out the part of their story that they value the most.  What's really important?  Is it the flowers?  Is it the dancing?  Is it the vows?
From my first phone call with Sarah, I was able to pick up on her commitment to Caleb.  But when she spoke of his daughter she spoke with a sense of respect and love that made it very clear:  She is joining both of them in life.  They are becoming a family.  She is aware of the impossible yet very tangible dynamics of becoming a mother.
All throughout the day, I found little moments where Caleb & Sarah gave time, space, and respect for Savannah to soak in the moments.  Not to force the day and union on her like two grown ups in charge.  Instead they welcomed her into their day.  They asked for her to be a part of it.  At times they literally held her hand as she navigated this emotional day.
I love seeing a groom's reaction to his bride.  The next best thing though is seeing a father look at his baby girl.
Yes please.
Go team America.
Hey you know who La Tee Da is right?  They kinda kick butt at making flowers look fantastic.
I caught Caleb having a little chat with Savannah right before the ceremony.  My heart turned all mushy.  I love it when dads "gets it." When they realize that no matter how hectic and crazy a moment is, the main thing our kids need is us to connect with them and let them know we are with them.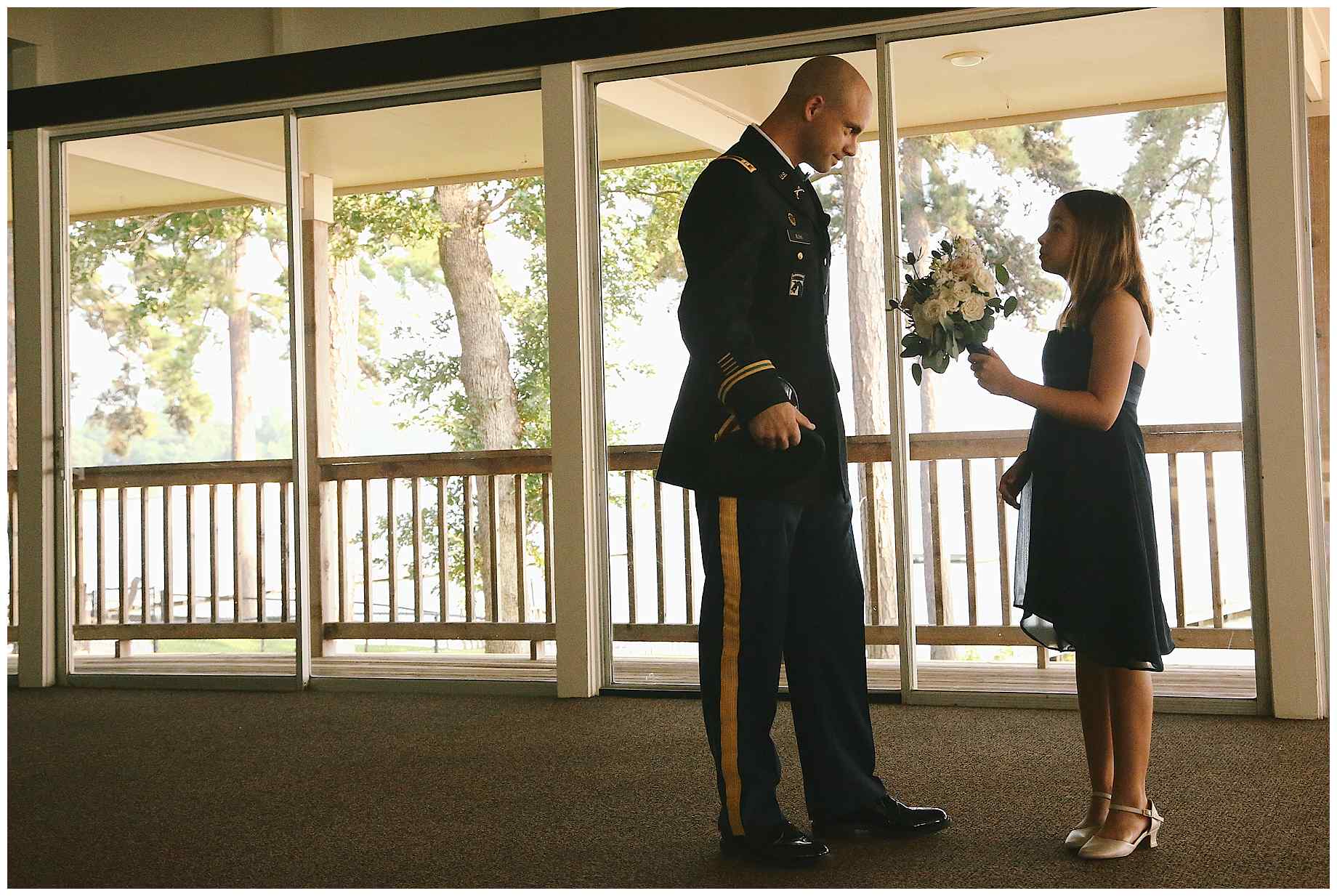 Then Savannah came out and Caleb went to meet her and walked her down the aisle.  (Because he wanted everyone to tear up a bit.)
Right when Sarah was about to walk out, it hit her.  Sometimes this happens to brides.  And I'll be honest.  Sometimes it leads to brides just crying all the way down the aisle.  I love everything about these shots.  I love that Sarah is completely overcome with emotion.  She is fully aware of the moment and understands how amazing their story is and that this is happening.
Her father gets it.
Her father knows his daughter enough to know that right now she needs him to look at her and reassure her.  That no matter how hectic and crazy the moment is, the main thing she needs is him to connect with her and let her know he is with her.
Caleb gets it.
He knows his bride so well.  He knows that she is full of emotions and he never once took his eyes off her.  He was locked in, he was steadfast, he was fully present.
When you marry a military man on the 4th of July at the lake, and a boat drives by during your vows with "I'm Proud to be an American" blasting front the speakers, all you do is smile and know you picked the right day.
Sarah's brother was deployed 2 days before her wedding.  It was a tough break for their families, but it's also what they do.  They serve.  They answer the call.  They go.
(They also Skype.)
The Fatt Apple makes yummie food.  Need proof?  Look at how happy these kids are.
The rest of the night was filled with people saying wonderful things, lots of dancing, and expositions in the sky.
Thank you two for letting me be a part of your day.  I left with a full heart.