If you have ever bought property, you know the most important rule.
Location. Location. Location.
Rebecca & Tony work in the medical & finance field. But if they ever decide to switch careers, I think real estate is their true calling.
Let's start with our getting ready location.  Hotel Zaza. (yes, please.)
I still don't understand why people pay me to do this job.  It's the best.
I would like to take this moment to publicly shame Tony for telling his sister that she had to have her kids ready for photos a full FIVE hours before the actual time.  What kind of brother does that?  Boo, Tony.  Boo.
(Also, props to his sister for actually pulling it off and KEEPING her kids happy and dressed until photo time eventually rolled around.)
First Look magic at Hotel Zaza
Bridal party photos location.  (not bad)
Not bad at all.
Rebecca loves to kiss Tony.  Tony loves to shy away from her kisses.  I see this trend continuing well into their 70's when she eventually breaks him.
Wait… what's that on the wall?  Could it be?
DINOSAURS!!!!!!
Of course they are getting married at the Houston Museum of Natural Science.  Why wouldn't they?
Typically I walk around getting photos of the decorations a couple has selected for their wedding.
This was what I got to take pictures of instead.
Of course this guy was part of their wedding day.
I LOVE when couples share a private meal together.
I think it's like 1 out of every 5 weddings where the ring has trouble going on the guy.
Tony said some of the sweetest vows to his bride.
That moment just after you are married.  (With dinosaur.)
Couples are always asking me how the family formals can look better.  Easy.  Add dinosaurs.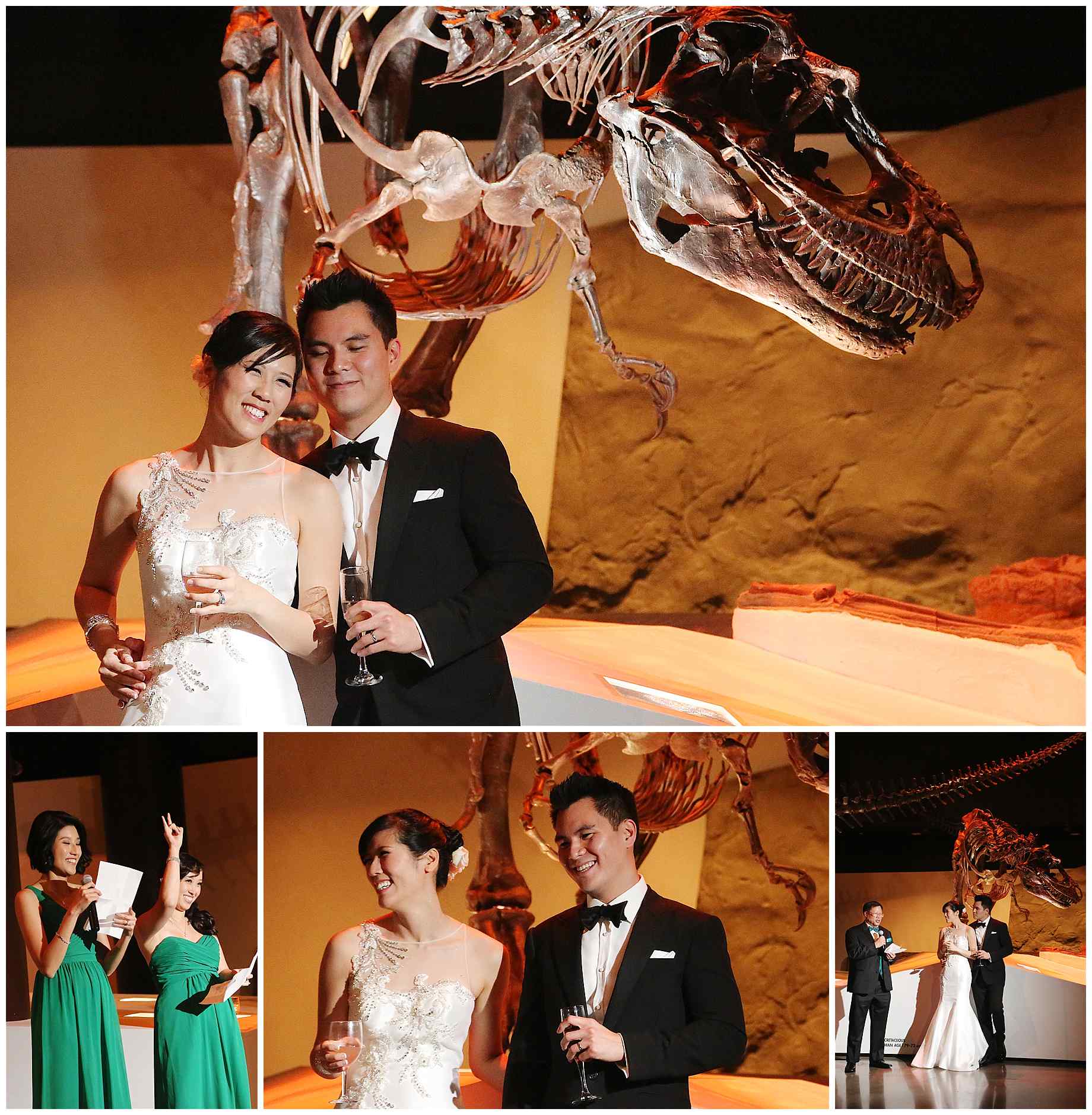 I tried so hard to think of a funny joke about rings and teeth but could not come up with one.
You know what makes feeding each other cake better?
Feeding each other cake in front of a triceratops butt.
Thank you guys for a great day.  As AMAZING as your locations were, I know your story will be better.