So, after a few years of saving and planning and saving, we took a little trip to Disney World. This post is not for the faint of heart. So grab a sandwich, have a seat, and get ready for a billion photos.
We sat the kids down a week before we were going to leave and surprised them with the news.
Those photos don't really do it justice. (This little instagram clip is kinda a better look at their reaction.)
The first step on any successful Disney trip is driving.  Lots of it.  Enter iOS devices and headphones.
17 hours later.  We arrive.  The lines to meet Anna & Elsa are typically up to 2-3 hours.  We settled on meeting these two plants instead.
One of the perks of homeschooling and going to Disney in September is the parks are less crowded.  (As in, parts of it are empty at times.)
The last time we went, Eli was not a fan of meeting any of the characters, this trip he was all in on the process.
Hey look, it's Aunt Gabby!
The step-sisters and I have a special relationship.
Eli managed to lose a tooth on the Haunted Mansion ride.
If you have ever stood around waiting for a parade, you know it's a super magical time for everyone.
Later that day Eli lost another tooth. :)
Each morning they pick a few families to help them "open" Hollywood Studios.  You get to hold a clap board and get some fast passes.  We soon realized, if you get there early and smile hard enough, you might get picked.  We managed to pull this off for all three of our Studios days.
Luke was slightly terrified of the Tower of Terror.
Sara and I not so much.
Wanna save a million dollars on your Disney trip?  Pack your meals.

Luke was chosen to drive a full sized "remote controlled" car at the Stunt Show.

Things Disney is great at selling:
1. Yummy food.
2. Lego blocks.
3. Plushes.
We felt like we would be bad homeschoolers if we did not visit the Hall of Presidents and American Adventure Pavilion.
Jo kinda fell in love with Captain EO.
Russell would not get out of my face 'til I saluted him.  We are now best friends.
Festival of the Lion King may be our favorite thing ever.
Finding Nemo the Musical may be my favorite thing ever.
Kilimanjaro Safaris may not be Eli's favorite thing ever.

Things we learned:
1. Danielle is creepy. 2. We all fit in a phone booth. 3. Lists are better if there are three funny items.
Danielle almost used the barf bag on Mission Space.
Me channeling my inner Fast and Furious.

Joseph has mastered the art of the ride photo.
Hey, remember how they pick a few families to open Hollywood Studios?  Turns out they pick one family to open the Magic Kingdom each day.  It's kinda a big deal.
You get in early, when no one else is around.
They take your name so you can be introduced to everyone.

You get to go around the park posing for photos wherever you want, all alone.
You get to meet the opening number performers.
They flirt with your son.
You are backstage when the train comes out.
(This may have been my favorite moment.  As the train pulls in all the characters are waving at the hundreds of families waiting in line.  For one brief moment though, Alice turned and waved to our family.  It was just a little nod to the fact that we were back there, too.  We were in on the secret.  It kinda made the magical moment even more fun.)
Then you, Mickey, and his friends get to open the park.
You know what else you get?  A Fast Pass to meet any character you want.  Remember how Anna & Elsa had a 2 hour wait?  BOOM!  Front of the line!
We adore the Swiss Family Robinson Treehouse.
DOUBLE RAINBOW!!
Sara challenged Gaston to a reading contest.  Without hesitation, he took the book out of her hands, put it up on a ledge and said "Good luck reading it now."  I love that guy.
Of course they each should eat a cinnamon roll the size of their head.  Why not?
I do like a good parade. But even more than the parade, I like watching my kids watch the parade.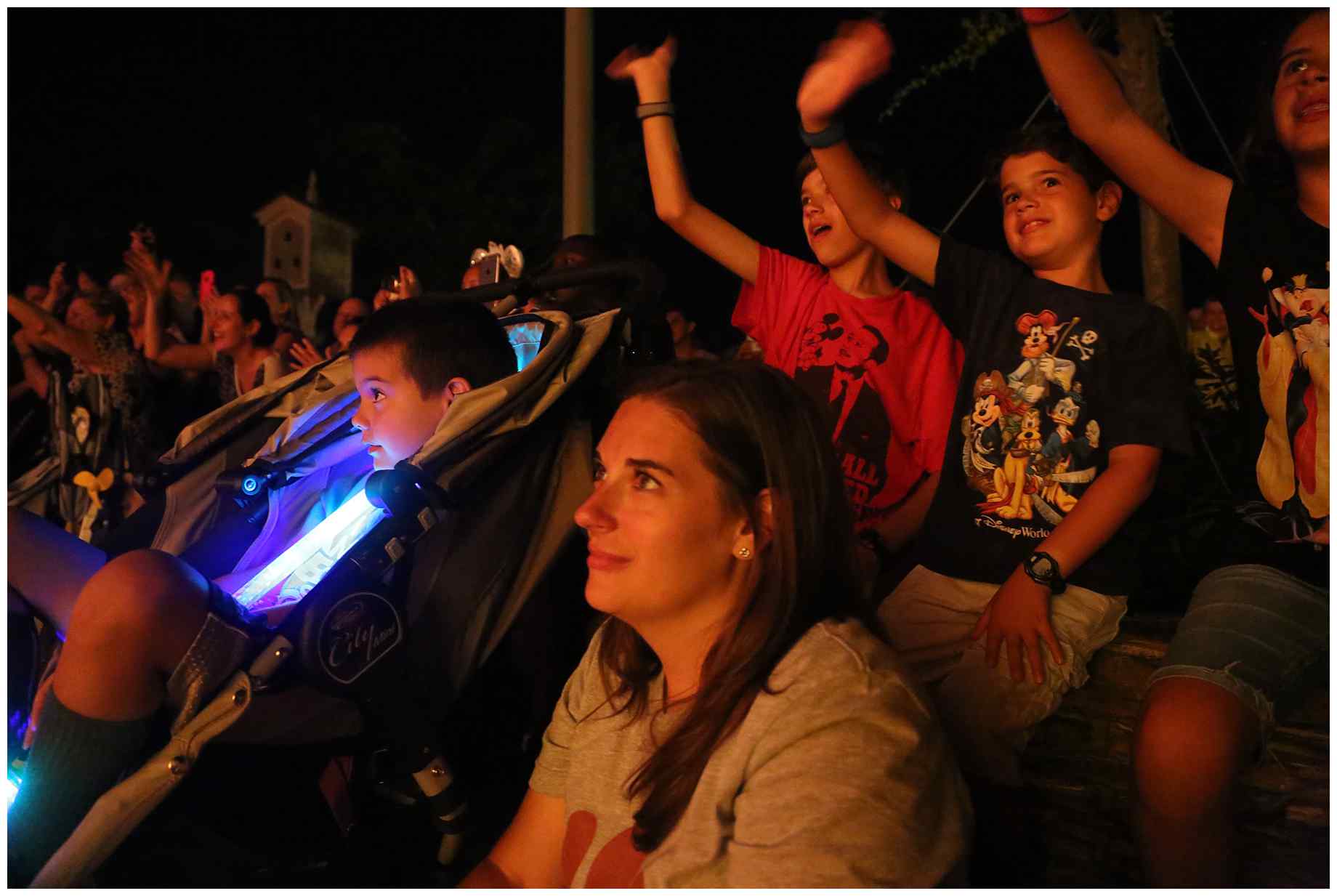 One more shout to Cindy from St. Charles, IL.  She totally made our trip when she asked us to be the Family of the Day.  You rock.
Of course I didn't just take photos, by the time I edited our home movie of the trip, it came in at about an hour.  I won't ask you to sit through that, but you might enjoy this little 2 minute trailer.