I think Carrie & Aaron laughed more than any couple I have photographed in a while.  They just seem totally at home with each other so I am thrilled that  they are willing to share a little part of how their first year of marriage went.  Here are a few images from their wedding last year and then we will dive into what they have to say about being married for 365 days. (and counting)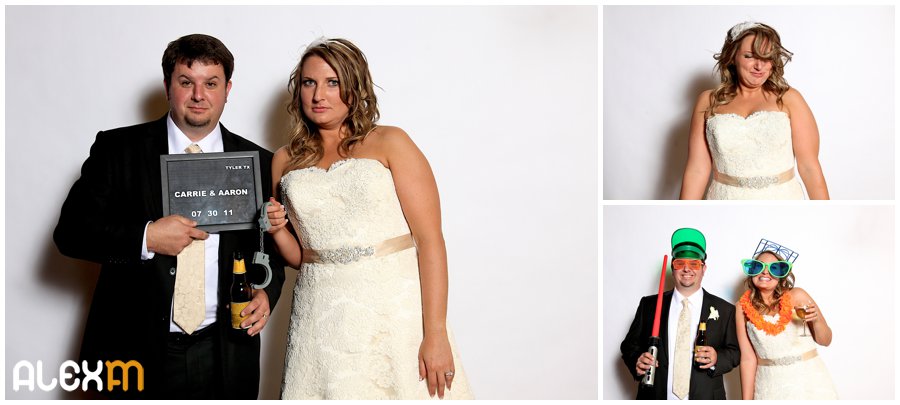 What do you miss most about the single life? 
Being able to make plans or choosing to have no plans at all without checking with someone first.
GIve us your best cheapo/fun married date idea.
Cooking a fun meal and watching movies at home, going to random small county festivals whenever we see one, taking short weekend vacations just to get out of town.
What have you liked most about your first year being married?
Knowing that whatever kind of day I have had, I will get to come home to my husband/wife and everything will be ok.
What's been the hardest part about being married?
Learning and accepting the other person's living habits.
What surpassed you the most? (Either good or bad.)
We both knew that marriage takes work and that is certainly true. However, I think we were both surprised at how much easier and fun life is when you have a constant partner. Even a Tuesday night trip to
the grocery store can feel like a date when you are with someone who simply makes you happy.
What have you fought about most and why?
Deciding who will be responsible for what on a daily basis. We had not really thought about that before getting married and we have had to really work on determining who is in charge of each task in order to
make things go.
What was the biggest thing you were nervous about? How has it turned out?
We both knew that living together 24/7 would be a major adjustment and it has been. When we were dating, I did not notice that Aaron leaves little whiskers all over the sink when he shaves and Aaron did not
realize that I was "psychotic" about the house being spotless when there is even a chance of company coming over. We both have had to learn that we can get annoyed with these little things or just accept them.
Do you have any advice for couples about to take the plunge?
Do whatever you can to really prepare for marriage. We have truly benefited from taking a VOW class prior to getting married. The class gave us the chance to talk about things that we would never had addressed on
our own. It is easy to stress out about whether the tablecloths are the right shade of blue or if the bridesmaids all really like their dresses (they won't) but try to stay focused on what really matters.

Thanks again you two for sharing some of your awesomeness with the inter webs.  And seriously people.  Take their advice.  Get on the WeVowNow website and take a class.