True story.
I love mission trips.
I love them for 2 simple reasons.
1. By going somewhere and serving, you can impact another life.
2. By going somewhere and serving, you can impact your life.
It's really that simple. I've been on about 7 of these type of trips in the past 3 years and each one reminds me more and more that they are worth taking.
This was a special trip because it was the first time Danielle and Sara joined Jo & I. I knew it would make for a totally different experience and I can't wait to share these little snippets with you.
(Also, if 100 photos and lots of reading is not your thing, that's cool. You can skip to the bottom and watch a little movie.)
Let's start with this photo.
FACT: The 4 of us went to Belize for a week and did not check one bag of luggage. BOOM! #WINNING

I loved seeing Sara sign her first customs form. I loved filling out 4 of those super annoying bad boys with all types of information and serial numbers. I loved Danielle giving me the stink eye when the first sign through customs was an Ebola warning. I also loved Danielle settling her nerves by reading a little Pride & Prejudice.
Rule #862 of these types of trips: sleep whenever you can.  (This is Jo's third trip.  He is a pro.)

We were serving in a little village called Guinea Grass.  Population 3,000.
One of the things we were doing was striping a basketball court we helped build last year.
These girls are college athletes. They tried to jump in the air on "3". They kinda failed. Take heart all you jumping bridesmaids and groomsmen. It's harder than it looks.
It was so great to go back and see so many familiar faces.  It's crazy that they remembered many of us by name.
Breakfast/Lunch/Dinner all came from this stove.
The kids loved all of the crafts, songs, and Bible stories that we would do in the afternoon.
Sara could usually be found in a crowd of kids.
This is Dakota.  I love him.  He is tall.  Really tall.  As in… he played college basketball tall.  The crazy great thing about Dakota is anytime there were kids around, you would find him way way down on the floor, connecting with kids.  It was so great to see.
After VBS, we would do a little basketball camp for the kids.  The skill levels varied greatly.  That was part of the fun.
The other part of the fun was when it rained, the court could be used as a slip and slide.
(I told you he was tall.)
I took these photos within like 20 minutes of each other.  I love them because they look so similar and yet are so different.  Sara would go and seek out a group of girls to play and hang out with.  Danielle would look for just one, and then little by little others would flock to her.
Reason #462 of why I love these trips: They stretch you.
Ryder ended up leading one of our devotionals. It was his first time doing anything like that and he crushed it. He shared from his heart and his experiences, and it was super open and honest. I loved listening to him and I loved seeing one of his closest friends kinda just ignoring him and stuffing his face with breakfast.
This is Norman our bus driver for the week.  When he was not driving us around, he was giving impromptu bus driving lessons to one of our team members who was about to come back to the states and have to take her bus driving exam.  Crazy right?
Reason #5208 of why I love these trips: The unexpected.
Another group had been to this village before us and met this little boy with a medical condition that keeps him from walking. A member of their group was able to find and purchase a walker that would grow with him. They got in touch with our group and had us deliver it. Needless to say, when this little guy started taking his first steps, his face lit up with joy. It was hard to keep shooting because all of the water in my viewfinder.
On a less emotional note… Remember that girl who learned to drive a bus?  She was going to be without her newfound boyfriend for TWO WHOLE WEEKS!!!!!  (Forever, I know.) Anyway… I thought it would be fun to bring a little cut out so she could share the trip with him. #WINNING
We also were able to take a little detour to see a Mayan ruin. This lead to us climbing it and making a Mayan face.
Our last day was spent playing on a nearby island.
The boat ride we took to the island was not Danielle's favorite.
Sara & I tried to snorkel but soon decided to just swim back to the boat and wait for the good stuff.
Sharks & Stingrays (AKA: The Good Stuff)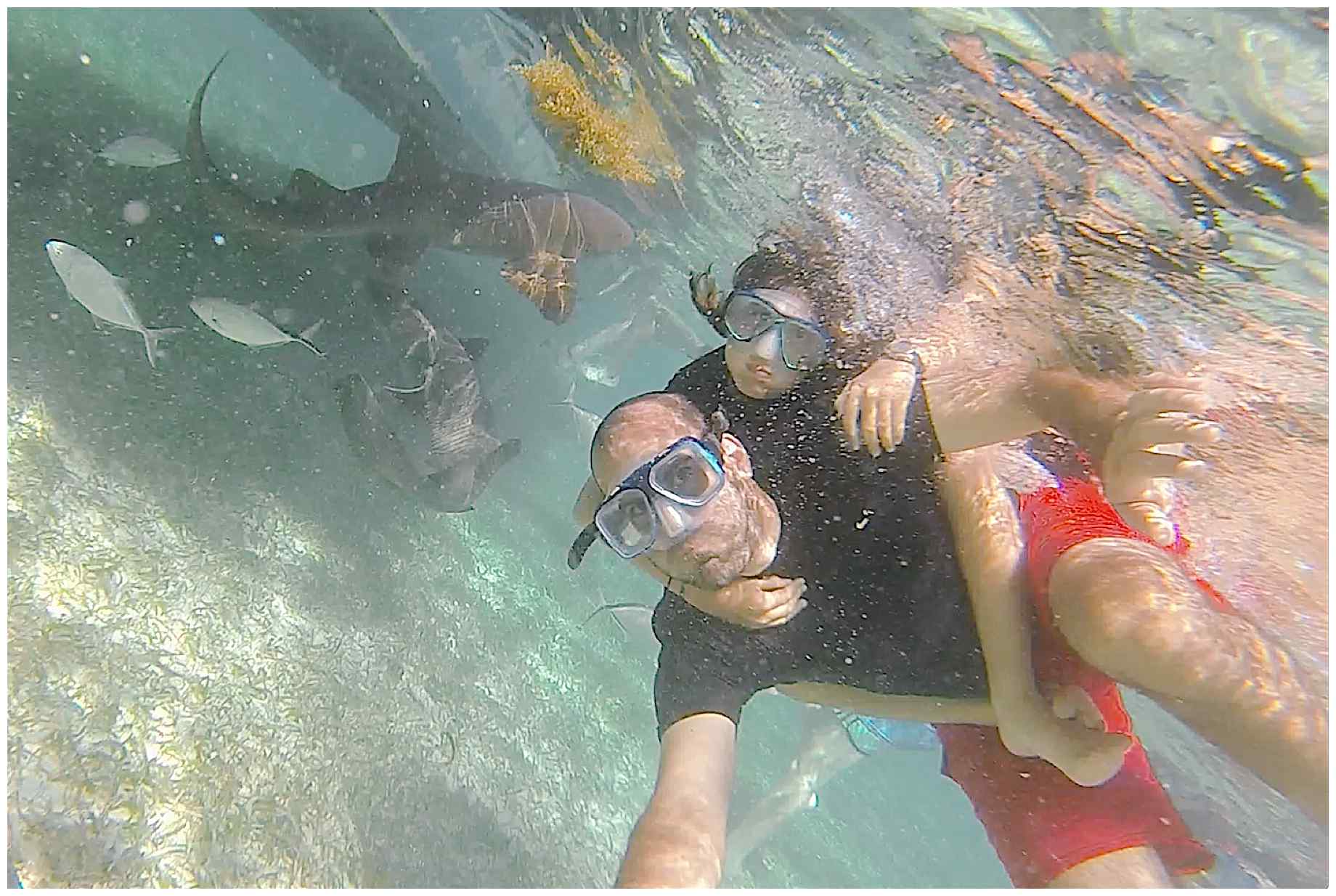 Sara was crazy brave and touched a shark. Danielle was crazy brave and climbed into the water, and then proceeded to climb onto my back and crush my lungs with her death grip.
We walked up and down the island looking at gift shops and souvenir stores. Jo finally decided on getting a used Sherlock Holmes book. (Of course he did.)
Towards the end of the week, we got a little video  message from the two boys we left back in the States.
You know what's neat?  When people get baptized.
You know what's also neat?  When you have your first cappucino and coconut water on the same day.
Again, I love the sharks, the basketball, the songs, and the boyfriend cut outs.  But the thing that really makes these trips stand out is the faces of these little kids.
One of my most favorite moments ever happened on this trip. Kids would constantly run up to me and ask me to take their photo. I would, then I would show them, then they would go get more kids. Rinse. Wash. Repeat.
This little dude comes up to me one morning and says… "Can I trade you this mango for a picture?"
Seriously? Uh… yes. Absolutely.

Like I said at the beginning, I love how these trips stretch you.
I love seeing my quiet homebody son be willing to interact with dozens of kids he's never met and love on them.
I love seeing my bold, fearless daughter travel to a new country and fit right in like she's grown up there her whole life.
These trips help center us.
They help remind us that the world is bigger than our:
home remodel
photography business
iPhone 6
playstation
american girl dolls
10 year plan
5 year plan
1 year plan
They remind us that right now is the time to love others.
Right now is the time to serve and give.
You don't have to leave the country. But you do have to serve.
Find a place to give back. Plug in. Pour yourself out.
And, in the pouring, and in the giving, you'll find the strangest thing happens.
You are filled.
Thank you Belize for filling me up.
Oh, one more thing, here's the video I promised.